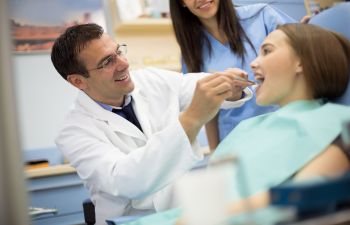 It is never ideal to lose your permanent teeth. However, tooth loss does occur. In fact, according to the American College of Prosthodontists, nearly 120 million people in the U.S. are missing at least one tooth. Regardless of how common tooth loss is, the consequences remain the same. Unless you replace your missing teeth in a timely manner, you are vulnerable to the following setbacks:
#1 Eating Challenges
It only takes one missing tooth to make chewing more difficult. You may even avoid certain "crispy" food options to avoid the pain of scraping your gums where your tooth once was. Multiple missing teeth often cause patients to avoid certain foods altogether, which can lead to a softer foods diet that is high in carbohydrates.
#2 Shifting Teeth and Dental Health Issues
When a tooth goes missing, it doesn't take long for the adjacent teeth to migrate towards the open space. This dental shifting creates a host of problems, including bite misalignment and jaw problems as well plaque buildup, decay and gum disease due to cleaning challenges.
#3 Speech Issues
We use our teeth to make specific sounds in speech. When teeth are missing, therefore, it is not uncommon to see patients adjust the way they speak to produce the same sounds.
#4 Bone Loss and Premature Aging
Chewing is like exercise for your jaw bone to keep its shape and density. Missing teeth cause bone loss in the jaw, which results in a sunken lower face and an aged appearance.
#5 Mental Health Struggles and Compromised Self-Esteem
According to studies, there is a link between mental health and tooth loss. Reports showed that levels of depression and anxiety were higher in those with missing teeth. It is no surprise that a gapped smile can cause you to feel embarrassed or self-conscious about the way you look.
Avoiding Missing Teeth Problems
At Pure Smiles Dentistry, we understand the serious setbacks of missing teeth and how it can impact appearance, self-confidence, oral health and overall quality of life. We don't want patients to suffer. Therefore, we proudly offer a full menu of services in restorative dentistry, including dental implants that can also solve bone loss issues after missing teeth. Call today to learn more about how we can restore your gapped teeth into the beautiful and confident smile you deserve.