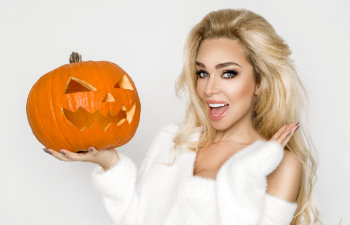 As the spookiest time of the year approaches, we know Halloween brings a plethora of sweet temptations that can play tricks on your dental health. At Pure Smiles Dentistry, we believe that enjoying the festive season doesn't mean compromising on your oral well-being. Join us as we reveal the best and worst candy choices for your dental health, so you can navigate Halloween treats with a smile.
The Sweet and the Sour: The Best Candy Choices
Dark Chocolate: This decadent treat is a Halloween winner! Dark chocolate has less sugar than milk or white chocolate, and it contains compounds that can benefit your heart health and even reduce inflammation.
Sugar-Free Candy: Opt for sugar-free alternatives, especially those containing xylitol. Xylitol is a natural sweetener that can actually help prevent tooth decay by reducing the growth of harmful bacteria in your mouth.
Powder Candy: Candy in powder form, like sugar-free drink mixes, creates less contact with the teeth, which reduces the risk of cavities.
Halloween-Themed Fruit: Get creative and offer Halloween-themed fruit snacks or fruit kabobs to delight the little ones without overwhelming their teeth with sugar.
Stickers, Toys, and Trinkets: Consider non-edible treats like stickers or small toys to promote Halloween fun without the cavity-causing consequences.
The Not-So-Sweet: The Worst Candy Choices
Hard Candy: Sucking on hard candy exposes teeth to sugar for prolonged periods, increasing the risk of cavities. Plus, accidentally biting into hard candy can lead to dental emergencies.
Sticky and Chewy Candy: Caramel, gummies, taffy, and the like are notorious for sticking to teeth, providing a feast for cavity-causing bacteria. Limit consumption of these sweets or encourage thorough brushing and flossing afterward.
Sour Candy: Acidic and sour candies can erode tooth enamel, making teeth more vulnerable to decay. Their high acidity levels can also cause sensitivity.
Sugary Chocolates and Candies: While we love a treat now and then, sugary chocolates and candies can lead to tooth decay if not enjoyed in moderation. Practice portion control and encourage children to brush after indulging.
Candy Corn: As iconic as it may be, candy corn is full of sugar and provides little nutritional value. It's best to enjoy this seasonal treat in moderation.
Tips for a Tooth-Friendly Halloween
Moderation is Key: Encourage your little goblins to enjoy their treats in moderation and not all at once.
Set Treat Times: Establish specific times for enjoying Halloween candy, preferably after meals when saliva production is higher and can help rinse away sugar and acids.
Hydration is Essential: Encourage your children to drink plenty of water to help wash away lingering sugars and acids from their mouths.
Brushing and Flossing: Ensure everyone in the family follows a consistent oral hygiene routine. Brushing twice a day for two minutes and flossing at least once a day will keep cavities at bay.
Post-Halloween Dental Checkup: Schedule a post-Halloween dental checkup for your little ones to ensure their teeth remain in great shape throughout the holiday season.
Keep A Spooktacular Smile
At Pure Smiles Dentistry, we care about your dental health and your ability to enjoy the festivities of Halloween. By making smart candy choices and maintaining good oral hygiene practices, you can have a spooktacular Halloween while keeping your smile shining bright!
Ready to make your Halloween a smile-friendly event? Schedule your dental checkup with us in Marietta and let's ensure your teeth are ready for all the tricks and treats!