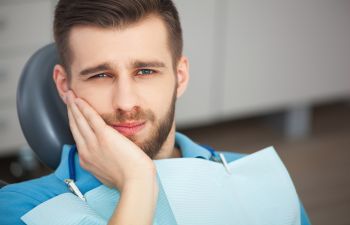 Dental pain can be hard to ignore. A painful tooth can limit your ability to eat, sleep and even concentrate. When tooth pain reaches a level that interferes with your normal, everyday activities, it needs to be addressed by an emergency dentist as soon as possible. Our Marietta office remains available to treat severe tooth pain and other dental emergencies. You can trust that we implement the highest standards of safety and protection during these visits.
When Your Tooth Hurts, Take These Steps
Not every toothache will warrant an emergency dental visit. At the first sign of discomfort, you can follow these steps at home to determine if it is a mild issue that you can treat yourself.
Look in the Mirror
. Grab a flashlight and a mirror and open wide. Try your best to get a good look at the area that is causing pain. You may need a family member to help you. When examining the affected tooth, ask yourself the following:
Are there visibly broken areas?
Is there swelling or bleeding?
Do the gums look especially red?
Is there an abscess or drainage present?
Gently Clean
Next, try to carefully clean around the tooth with a toothbrush and floss to ensure there is not a food particle stuck under the gums or between your teeth.
Treat Minor Symptoms
Try rinsing with warm salt water and taking an OTC anti-inflammatory. This can help reduce and alleviate discomfort until you can see a dentist.
Call an Emergency Dentist
Contact Pure Smiles Dentistry to discuss your tooth pain. You should be prepared to share your findings, describe your symptoms and report your level of pain. Depending on your situation, we can arrange for a same-day dental visit if emergency treatment is warranted. Most importantly, do not ignore dental pain. Doing so can lead to worsening pain and more complicated treatment.