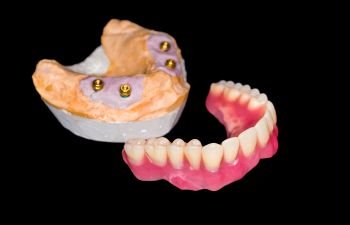 Dentures have come a long way in terms of comfort and aesthetics. However, many patients still struggle to find the security they need in their prosthetic teeth. Dentures that slip or pop out of place while eating or speaking can be a major downfall. If you don't feel confident in your dentures, you may avoid certain foods or cover your mouth when you laugh. Long-term, this is no way to live your life.
The game-changing solution to this problem isimplant-supported dentures. This is often referred to as dentures stabilization. Using a set number of dental implants, your denture can be attached and stabilized to withstand normal pressures and jaw movement. Remember that a dental implant represents a permanent replacement of your tooth root, one that is securely fused to your jawbone. Therefore, when the denture is locked into place on top of the implants, patients gain a dramatic improvement in security and stabilization. Implant-supported dentures can be fixed or removable, depending on patient preference.
There are a number of factors that determine how many dental implants you need to stabilize your dentures. Your treatment plan will depend on whether or not it is an upper or lower denture and whether it is a full or partial model. In general, the more stability you want, then the more implants you will need. Patients who have greater bone loss will require more implants to create longer-term stability and avoid future bone loss.
Many patients choose implant-supported dentures because they are unhappy with the lack of stability that their traditional dentures provide. Others want to avoid the expense of a full set of dental implants and choose to have just a few mini-dental implants placed for their denture stabilization.
At Pure Smiles Dentistry, we provide a full menu of options in restorative dentistry, giving patients the high-quality solutions they need with the customized approach they deserve. Call us today to learn more about how you can gain more confidence in your replacement teeth.