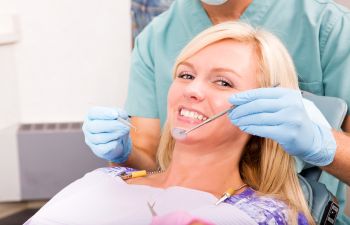 At some point in elementary school you were probably shown the shocking and corrosive effects of soft drinks on your teeth. The sugars and acids in regular soda can wreak havoc on the protective outer layer of your pearly white. But what about Diet Soda? Many people assume they are safe from dental issues if they consume their carbonated beverages in a sugar-free version. Unfortunately, this is false. Due to their high acidity, diet sodas are just as damaging to tooth enamel and oral health as regular sodas.
Diet sodas don't have real sugar. Instead they get their flavor from artificial sweeteners. While it is true that artificial sweeteners don't promote bacteria and acid production in our mouths like sugar does, studies show that sugar content really doesn't matter when it comes to its detrimental effect on the teeth. The high acid content of all sodas causes tooth erosion at roughly the same rate in those with real sugar and those with sugar substitutes.
Whether diet or regular, drinking soda triggers an acid attack on the teeth that lasts for about 20 minutes, and restarts with each sip! During this process, the tooth enamel is stripped of vital minerals. Over time, patients can suffer from tooth sensitivity, a chalky appearance, pitting, opacity changes and greater chance of cavities.
Minimizing Your Risk
You don't necessarily have to give up sodas altogether. However, you can implement some habits that can help protect your smile health – even when your soda is calorie-free:
Use a straw
Drink all in one sitting rather than sipping slowly
Drink soda along with eating a meal
Rinse your mouth with water afterwards
Wait at least 30 minutes after drinking before brushing your teeth
Keep in mind that studies have shown that drinking diet sodas may not only be just as harmful for your teeth but may also backfire when it comes to your waistline as well. The brain and body connection can get mixed signals when we consume artificial sugars, which can eventually make us crave even more sugars or carbs in order to make up for the empty calories. This, of course, contributes to weight gain.
If you are concerned that your soda or diet soda habit has already compromised the health and appearance of your smile, please make an appointment with Pure Smiles Dentistry. We offer a full menu of dental services to restore your teeth and protect them going forward.