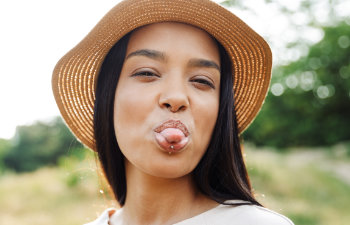 When it comes to maintaining good oral hygiene, brushing your teeth is a well-known essential. However, many people overlook an equally important part of their mouth – the tongue. Your tongue is a breeding ground for bacteria, food particles, and dead cells that can contribute to bad breath, plaque buildup, and even dental issues. Here are some top reasons why you should include tongue brushing as an integral part of your oral care routine.
Banish Bad Breath
Bad breath, also known as halitosis, can be a significant source of embarrassment and social discomfort. While brushing your teeth helps eliminate odor-causing bacteria, neglecting your tongue allows bacteria to thrive. The rough surface of the tongue provides an ideal environment for bacteria to accumulate, leading to persistent bad breath. Regularly brushing your tongue helps remove these bacteria and freshen your breath.
Remove Bacterial Plaque
Bacterial plaque buildup is not limited to your teeth; it can also accumulate on the surface of your tongue. Plaque is a sticky film that contains harmful bacteria and can contribute to tooth decay and gum disease. By brushing your tongue, you effectively remove the bacterial plaque, reducing the risk of dental problems and promoting overall oral health.
Improve Taste Sensations
The taste buds on your tongue play a crucial role in your ability to enjoy and savor different flavors. However, a coated tongue due to bacterial buildup can hinder your taste sensations, causing a dull or altered taste perception. By gently brushing your tongue, you remove the layer of bacteria, debris, and dead cells, enhancing your taste buds' ability to detect and appreciate flavors.
Enhance Overall Oral Hygiene
A comprehensive oral care routine involves more than just brushing your teeth. Including tongue brushing helps ensure that you address all areas of your mouth, reducing the risk of oral health problems. By brushing your tongue, you create a cleaner environment in your mouth, minimizing the presence of harmful bacteria and reducing the chances of developing cavities, gum disease, and other oral issues.
Promote Digestive Health
Your tongue acts as the starting point of the digestive process. It helps break down food particles and mixes them with saliva to facilitate swallowing. However, an unclean tongue can introduce harmful bacteria into your digestive system. By regularly brushing your tongue, you reduce the bacterial load, promoting better digestive health and overall well-being.
Tips for Effective Tongue Brushing
Not sure if you are brushing your tongue correctly? Pure Smiles Dentistry suggests the following steps:
Use a toothbrush with soft bristles or a tongue scraper specifically designed for tongue cleaning.
Gently brush the entire surface of your tongue, starting from the back and moving forward. Apply light pressure to avoid causing discomfort or injury.
Rinse your mouth thoroughly with water or mouthwash after brushing your tongue to remove any residual bacteria or debris.
Time for a Checkup? Call Pure Smiles
Maintaining excellent oral hygiene goes beyond brushing your teeth alone. Your tongue deserves equal attention to ensure optimal oral health and fresh breath. Incorporating tongue brushing into your daily routine can help banish bad breath, remove bacterial plaque, enhance taste sensations, promote digestive health, and boost your overall oral hygiene.
Visit Pure Smiles Dentistry in Marietta for expert guidance and comprehensive dental care, including tips on proper tongue brushing techniques. Remember, a healthy mouth is a key ingredient to a radiant smile and overall well-being.