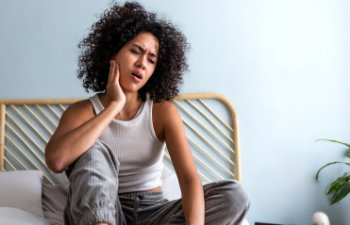 TMJ discomfort, characterized by pain and stiffness in the jaw, is a condition that affects many individuals. At Pure Smiles Dentistry in Marietta, we understand how this discomfort can interfere with daily activities like speaking and eating. While professional dental care is crucial for diagnosing and treating the underlying issues of TMJ, there are also some measures you can take at home to alleviate symptoms. Here are our expert recommendations:
Apply Ice or Heat
Ice: Applying an ice pack to the affected area for 10-15 minutes can help reduce inflammation and numb the pain.
Heat: Alternatively, a warm compress can ease muscle tension. Remember to use a cloth barrier to prevent burns from direct heat.
Gentle Jaw Exercises
Gentle stretching and strengthening exercises may help improve TMJ function. Here's a simple one to try:
Open your mouth as wide as is comfortable, then close it slowly. Repeat a few times daily.
Note: Always consult with a dental professional like those at Pure Smiles Dentistry before beginning any exercise regimen to ensure it's suitable for your specific situation.
Avoid Overworking the Jaw
Eat Soft Foods: Avoiding hard, chewy foods can minimize strain on the jaw.
Don't Chew Gum: Chewing gum can exacerbate TMJ discomfort.
Avoid Clenching: Make a conscious effort not to clench your jaw, especially during stressful situations.
Massage the Jaw Muscles
A gentle massage can help relieve muscle tension around the jaw. Use your fingertips to apply gentle pressure and massage in a circular motion on the affected areas.
Maintain Proper Posture
Poor posture can contribute to TMJ discomfort. Ensure that you maintain a straight and aligned posture, especially when working at a computer or looking at a mobile device.
Consider an Over-the-Counter Pain Reliever
Non-prescription pain relievers like ibuprofen can provide temporary relief. Always follow the instructions on the packaging or consult with a healthcare provider to ensure it's appropriate for you.
Avoid Extreme Jaw Movements
Yawning widely or singing loudly may aggravate TMJ discomfort. Be mindful of your jaw movements and avoid extremes.
Seek Professional Help if Needed
While these at-home remedies can provide some relief, it's essential to consult with dental professionals like those at Pure Smiles Dentistry for a proper assessment and treatment plan. We offer various therapies and interventions tailored to your specific needs and condition.
TMJ discomfort doesn't have to dominate your daily life. By following these at-home strategies and seeking professional guidance from Pure Smiles Dentistry in Marietta, you can take control of your symptoms and enjoy improved jaw function and comfort.
If you are experiencing persistent or severe TMJ discomfort, don't hesitate to reach out to us to schedule an appointment. We're here to provide compassionate, expert care to help you smile with confidence and ease.