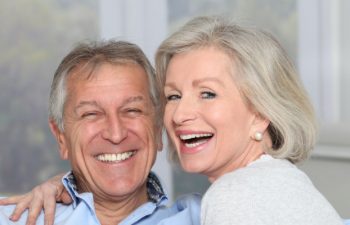 Every stage of life presents a unique set of dental concerns. In our effort to provide complete family dentistry to patients in Marietta, we proudly offer dental care for all ages, from the youngest member of your household to the oldest.
As we age, it is common to face specific oral health challenges ranging from dry mouth and gum disease to sleep apnea and missing teeth. We know that oral health and whole body health are closely linked. For example, untreated gum disease can lead to heart disease and stroke, and poor oral health can also make it more difficult to control diabetes. Therefore, it is imperative to address dental concerns in senior patients as soon as possible. If not addressed, there may be threats to overall health as well as quality of life.
At Pure Smiles Dentistry, we make every effort to help our patients retain a healthy and confident smile from pediatrics to geriatrics. To this end, our Marietta practice offers preventative care, cosmetic services and complete implant dentistry for senior patients. Beyond providing the unique treatments and services our aging adults need for a healthy mouth, we also pay attention to what they may physically need here in our office. We have equipped our clinic to make seniors comfortable at every step of their visit, from our easy check-in process and relaxing amenities to our wheelchair accessible treatment rooms and in-office discount plans.
Caring for geriatric patients at Pure Smiles Dentistry includes the following popular dental services:
Periodontal Therapy
Dry Mouth Prevention
Cracked Tooth Repair
Sleep Apnea and Snoring Prevention
Dental Implants
Dentures
Full Mouth Reconstruction
To learn more about our unique ability to treat your entire family in Marietta, please contact Pure Smiles Dentistry.