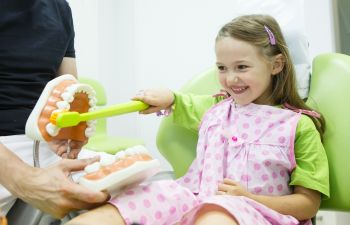 We all have heard as parents to start teaching our children good habits at a young age so they are instilled and become habits later in life. Dental hygiene is no exception to setting your children on their way with good dental habits. Did you know that at 6 months old your baby's first teeth could be at risk for tooth decay? Most children at the age of 3 have their full set of 20 baby teeth or primary teeth. This is why it is important to start dental hygiene early. Good news for parents is that tooth decay is preventable with good dental habits! Pure Smiles Dentistry in Marietta, Georgia is ready to partner with you and your children to form good dental habits that will last a lifetime.
At what age should I start cleaning my child's teeth?
It is important to start cleaning your baby's mouth during the first week after they are born. You can wipe their gums with a clean, damp washcloth. As early as 6 months old to as late as 14 months old your baby could get their first teeth. Start good habits early by brushing their teeth twice daily. For children under the age of 3, use a child's toothbrush and a small smear the size of a rice grain of fluoride toothpaste. For children ages 3 to 6 years old, use a child's toothbrush and a pea-sized amount of fluoride toothbrush. It is important to brush your child's teeth for them until you are sure they can do it on their own. Flossing is a key component of good dental hygiene and will help prevent cavities, keep gums healthy, and remove plaque. You should start flossing your child's teeth as soon as they have two teeth that touch.
When should my child visit the dentist?
The American Dental Association (ADA) recommends that your child should have their first dental appointment within 6 months after their first tooth appears, but no later than their 1st birthday. Visiting the dentist at an early age will set them up with good dental habits and get them comfortable with the dentist. Their first dental appointment is their introduction to the dentist and will involve examining your child's mouth, checking for growth and development, and getting them comfortable with the dental office. Pure Smiles Dentistry wants to ensure your child has a great experience from their first dental appointment and beyond.
Pediatric Dentistry in Marietta
If you are in Marietta and surrounding areas, Pure Smiles Dentistry is ready to be your dental home. Call to schedule your child's first dental appointment and establish good dental habits today!