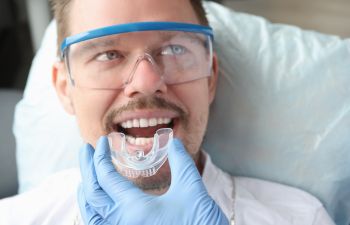 Mouthguards are a way to protect your teeth from costly damage. While your child may need a mouthguard during sports, you may need a different type of mouthguard to protect your own smile if you grind your teeth while you sleep. At Pure Smiles Dentistry, we can help patients understand their personal need for a custom mouthguard, which are always made of top quality materials and custom fabricated to comfortably fit your unique set of teeth.
Athletic Mouthguards
Is your child wearing a mouthguard while playing sports? Mouthguards are not just for football and wrestling. The can be the most important piece of equipment your child wears during any type of contact sport. According to the American Dental Association (ADA), more than 200,000 oral injuries are prevented each year by wearing a mouth guard. These include injuries to the teeth, lips and tongue. A mouthguard can effectively absorb the force of direct trauma to the mouth and prevent damage, but it must fit properly to accomplish this.
Unlike store-bought or "boil-and-bite" mouthguards that offer limited protection and easily fall out, a custom mouthguard can provide the highest level of comfort, protection and durability. A custom mouthguard from a dentist is carefully crafted to fit your child's bite so that it stays in place securely and allows your child to speak and breathe comfortably during activity. In some cases, it can even improve athletic performance because it reduces the amount of energy used to clench the jaw. A custom-fit mouthguard can protect your child from broken teeth, gum or lip lacerations and other serious mouth injuries. It can also protect orthodontic appliances better than store bought alternatives.
Dental Nightguards to Prevent Teeth Grinding
If you grind your teeth at night, you are not only disrupting your partner's sleep, but you are wreaking havoc on your smile. Teeth grinding (or bruxism) is a habit that can gradually wear down your teeth and cause jaw problems (TMD) if not treated properly. The best way to protect your dental health from nighttime teeth grinding is to use a custom nightguard. A qualified dentist will realize the importance of providing a nightguard that fits comfortably and is easy to wear and clean.
You can trust that Pure Smiles Dentistry uses the latest in dental technology and highest quality materials when it comes to protecting your smile. We have a compassionate dental staff that listens carefully to your dental concerns and recommends a personalized treatment plan to suit both your needs and lifestyle. If teeth grinding is causing tooth damage, morning headaches or jaw discomfort, we can help you.
To learn more about the easy and affordable process of getting a custom athletic mouthguards or dental nightguards, please call our Marietta office today.