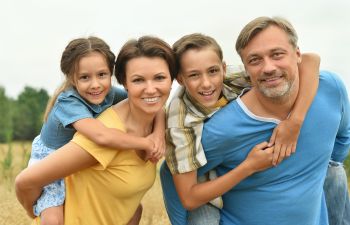 When it comes to your family's oral health, what's best for you might not be what's best for your children. While a dentist may have all of the qualifications and experience necessary, children benefit from a different approach, one that is gentle and environmentally conscious. What's more is that children have different dental needs than adults, and their first experiences in the dental chair will stick with them for years to come. This is why many families choose a family-oriented dentist that can meet the needs of their tiniest tot to the eldest member of their family.
Consider the benefits of family-oriented dentistry below:
Dental needs are different at every age: Without question, the priorities of an adolescent dental patient and those of a middle-aged adult are different. For instance, as children learn healthy brushing and flossing habits, they are likely to have a cavity here and there. Thus, the focus of their care is based on establishing healthy preventative dental habits. On the other hand, adults face years of wear and tear on their teeth. Therefore, the focus of their care centers on preserving their teeth or even replacing teeth.
Attitude is key: From the moment children step foot in a dentist's office, they begin developing an opinion about dental care that will affect their oral health as they age. That's why a dentist with a positive attitude is key. Generally, when a dentist's approach to dental care is exciting and fun, this calms fears and anxiety, and helps establish a healthy outlook on dental care.
Environment makes a difference: When a dentist focuses their care on families, they must consider the type of environment that is pleasing to both children and adults. In other words, children are likely to feel more comfortable in an office with warm colors, special seating, interactive toys or television. Remember—it's important that kids learn to enjoy the dentist, not dread it.
Welcome to Pure Smiles Dentistry, where you'll find a friendly and delightful dental team ready to serve your family in Marietta. With an expansive menu of dental care services, Dr. Patel leads the practice with a focus on creating a positive environment for patients of all ages and stages.
If you're looking for a dental home in Marietta, Powder Springs or Hiram, call Pure Smiles Dentistry today.