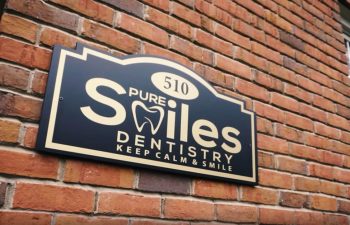 Are you visiting the dentist like you should? There are many obstacles that keep patients from getting the dental treatments their smile needs for optimal health and beauty. While anxiety and convenience certainly rank high on the list, the cost of dental care continues to be a major obstacle for individuals and families across the United States. According to statistics listed from DentalPlans.com, at least one in five U.S. children go without annual dental care and more than 50 percent of uninsured and 30 percent of insured Americans skipped necessary dental care visits during the last year due to financial burdens.
Considering the shocking reality that patients are neglecting their smile to preserve their wallet, we've decided to remove (or at least greatly reduce) the financial burdens that our patients have surrounding their dental care. At Pure Smiles Dentistry, we proudly offer a full menu of financing options for budgets of all sizes. We realize that every individual or family brings a unique set of dental needs, along with a unique financial situation. To ensure that no patient turns away due to cost, our office provides the following:
Insurance Acceptance: If you've got coverage with a PPO dental insurance plan, chances are, we accept it. We've partnered with the leading insurance carriers so that you get in-network benefits to maximize your insurance investment.
Financing Options: Third-party financing has helped countless uninsured patients afford their dental treatments. Whether you need a several restorative procedures or want a smile makeover to overhaul your look, you're invited to take advantage of monthly financing plans from Lending Club, Care Credit and Green Sky.
In-Office Discount Plan: Pure Smiles Dentistry is pleased to offer another valued option for patients who can't afford traditional insurance. With our Pure Smile Club Discount Plan, you'll get remarkable discounts on all types of dental services with an affordable annual membership. Our discount plan membership awards individuals and families free cleanings, free exams and free x-rays as well as up to 50% off other dental procedures. No maximums, no paperwork, no hassles – just savings!
Flexible Payment Methods: Last but not least, we accept a variety of payment methods at our office, including cash, credit card and check.
At Pure Smiles Dentistry, we don't make you choose between your wallet or your smile. We are proud to break down the obstacles that people face when it comes to seeing a dentist. If money wasn't an issue, would you be making that dental cleaning visit this week or scheduling a cosmetic smile makeover before your summer trip? Go ahead – we have payment options to alleviate your budget concerns.