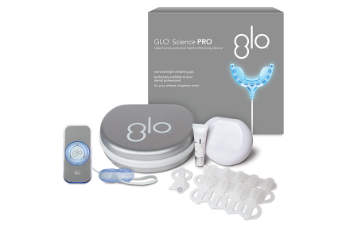 When it comes to obtaining a brighter, whiter smile, there are numerous products in the form of messy strips and ill-fitting mouth trays. Unfortunately, over the counter brands fall short when it comes to results. What's more, these methods are a threat to gum tissues that might come in contact with whitening fluids, causing irritation and sensitivity. That's why many are turning to the patented technology found in Guided Light Optics, or GLO. Without question, GLO is the way to go!
A revolutionary system, GLO combines the power of heat and light, delivered in a closed mouthpiece. This is important, because the closed method prevents oxygen from escaping the surfaces of teeth. The result is that teeth are whitened more efficiently and effectively, and will remain white longer. To begin, the gel formula is painted or applied to the surfaces of teeth. Next, the mouthpiece is attached, and when ready, an individual presses the GLO button on a hand-held device. Depending upon an individual's desired results, he or she can enjoy comfortable teeth whitening in 4 intervals of 8 minutes each. Most importantly, GLO is perfect for sensitive teeth!
Perhaps one of the greatest aspects of the GLO system is that it allows for teeth whitening anytime, anywhere. This is because there's no need for refrigeration. Individuals simply brush the formula onto teeth from a GLO vial. This is a plus for those hoping to maintain their whitening results on-the-go. Furthermore, there's no need to rinse away the application, because the exclusive gel formula penetrates the enamel of teeth and dissolves. With a fresh minty flavor, it doesn't leave behind a strange taste, not to mention it is gluten-free, vegan and cruelty-free.
Are You Ready to GLO?
Already trusted by thousands of GLO dental partners and patients, the GLO teeth whitening system is available at Pure Smiles Dentistry in Marietta. This award-winning product is clinically proven to whiten teeth by five shades, and our team is happy to offer it to you! Are you ready to GLO? Call Pure Smiles Dentistry today.