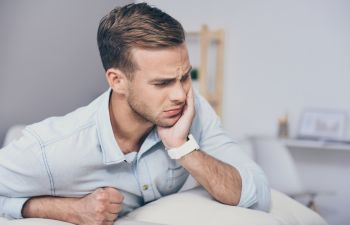 Do you have a toothache? This is a broad term that could indicate a minor discomfort when you eat or a throbbing emergency that makes it difficult to sleep or even concentrate. Nevertheless, tooth pain is disruptive and needs to be treated. For lasting relief and to prevent more serious dental problems, it is important to see your dentist. However, here are some steps you can take on your own to get you through those difficult hours of waiting to go to your appointment.
Toothaches can take on many forms and can be triggered from a variety of factors, including the following:
Sharp or sudden pain triggered by contact, either by something you bit down on or a direct injury/trauma to your mouth.
Dull or lingering pain could indicate a damaged pulp (nerves at center of tooth) or it may be a by-product of TMJ problems or referred pain from sinus issues.
Hard-to-identify pain and swelling often points to an abscess or infection, which needs to be treated as soon as possible.
Call Your Dentist and Consider These Home Remedies While You Wait
In the minutes or hours until you can be seen by your emergency dentist, we suggest the following potential remedies for your toothache that you can perform at home:
Over-the-counter pain relievers (acetaminophen or ibuprofen)
Clove oil or a tea bag (known for anti-inflammatory properties and anesthetic relief when applied topically)
Warm saltwater rinse
Ice cubes for numbing painful or sore gums
In addition, it is best to avoid aspirin and stick to a soft foods diet while you are waiting to see your dentist. At Pure Smiles Dentistry, we are fully equipped to treat your toothache. Our office proudly offers same day dentistry to accommodate unexpected concerns just like this. Not only can we bring you out of pain and treat the underlying cause, but we take the time to educate you on how to avoid toothaches in the future.