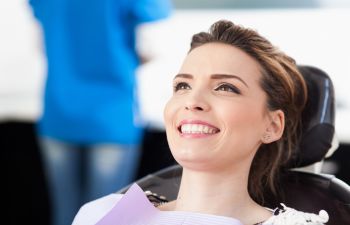 When it comes to recreating one's smile, porcelain veneers are the dental restoration of choice, providing unmatched beauty, strength and resilience. In turn, veneers are remarkably versatile, making them a customized aesthetic procedure. Dentists can make slight alterations in the positioning of a patient's teeth. In addition, the size, shape and color of teeth can be changed, with special attention to the contour of gum tissues that are visible above a patient's front teeth.
To imagine your future with porcelain veneers, continue reading below.
Your Smile Becomes You discusses the composition of porcelain veneers, which consist of a combination of thin ceramic layers that replace original tooth enamel. This means that a small portion of a patient's natural tooth structure must be removed (approximately one millimeter). The reason for this step is to ensure that the porcelain veneer fits appropriately, while restoring natural tooth function. The veneer is bonded to the surface of each tooth according to the preferences of the patient and dentist. Sandwiched between the original tooth structure and the veneer is a light sensitive resin that is hardened with a specialized curing light.
For teeth that are misshapen, discolored, chipped, have uneven contours or for teeth with small gaps between them, porcelain veneers are a promising solution. What's more, the high-tech materials of veneers means that they resist staining from coffee, tea and cigarette smoke. Patients who have tried teeth whitening to no avail also find porcelain veneers to be the best option for obtaining the bright white smile that they've always wanted. The unique quality of porcelain reflects light akin to natural teeth. In fact, the semi-translucent appearance of veneers blends seamlessly with a patient's smile. Each veneer is individually sculpted, and can be matched to adjacent teeth, if desired. Furthermore, it is nearly impossible for others to detect the difference between a porcelain veneer and a patient's original tooth.
Perfect Your Smile With Porcelain Veneers At Pure Smiles Dentistry!
At Pure Smiles Dentistry in Marietta, we offer patients the opportunity to perfect their smiles with porcelain veneers. While veneers reinvent the appearance of one's smile, they can also be combined with other cosmetic dental procedures as part of a full smile makeover.
To begin planning the future of your smile with porcelain veneers, call Pure Smiles Dentistry today.