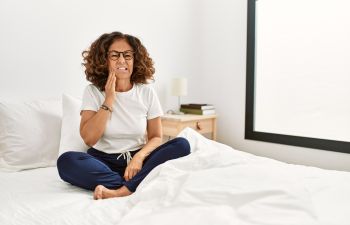 Bruxism, or teeth grinding and jaw clenching, can have detrimental impacts on your smile and health. It is not just an annoying habit – most teeth grinding and jaw clenching occurs when you are sleeping, causing serious impacts on your teeth and jaw. There are effective, non-invasive sleep bruxism treatments that can protect your smile while improving your overall health.
What Causes Bruxism?
There is not a known cause for all forms of bruxism, but there are linked factors that are known to contribute to this condition. Stress and anxiety are the most common culprits for jaw clenching or teeth grinding, both when awake and sleeping. However, there are other conditions that may also be associated with bruxism, including:
Teeth misalignment
Obstructive sleep apnea
Jaw issues like TMD/TMJ
While there can be various reasons for bruxism, treatment for nocturnal teeth grinding can often relieve some of these other conditions and protect teeth from damage.
Dental Damage Caused by Sleep Bruxism
The pressure on the teeth and jaw from jaw clenching and teeth grinding can cause extensive damage and impact oral health. Sleep bruxism can be a source of pain and cause expensive damage to your smile. Some consequences of nocturnal teeth grinding and clenching include:
Uneven or shortened teeth
Fractured or broken teeth
Loose teeth
Damaged dental work
Lost enamel and tooth sensitivity
Jaw pain and facial soreness
Headaches and TMJ symptoms due to jaw joint stress
Poor sleep quality
The constant excessive pressure and wear on the teeth and jaw can lead to serious dental issues, even tooth loss. The good news is that bruxism can be treated and you can protect your teeth and jaw from further damage.
Treatment for Sleep Bruxism
The treatment for bruxism depends on what may be causing your condition. If your teeth are misaligned or uneven, you may need dental treatments to stabilize your jaw to stop the slipping and grinding while you sleep. Another option is oral appliance therapy, which uses a customized dental nightguard or splints to keep your teeth from touching during sleep. Oral appliances can also address other issues like snoring, TMJ or obstructive sleep apnea, which are common among people with bruxism.
Our team Pure Smiles Dentistry can help you find the right treatment for your bruxism to protect your smile and overall health. Contact our Marietta office to schedule a consultation today.