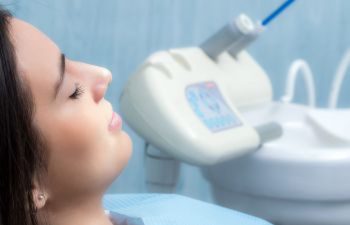 Does the thought of going to the dentist make your heart race or your stomach drop? You are not alone. Countless patients experience anxiety and fear surrounding dental care. In fact, up 75% of United States adults experience some level of fear about dental visits. However, if your fear is keeping you from going to the dentist at all, you may need to consider sedation dentistry.
Sedation dentistry is a valued solution for patients who suffer from dental anxiety. Sedation dentistry does not mean you have to be "put to sleep" or get general anesthesia. On the contrary, sedation dentistry can be quite simple with no lingering side effects. The most common type of sedation is nitrous oxide, which is known as "laughing gas." Nitrous oxide is a type of oral conscious sedation that involves wearing a small nosepiece during your dental procedure. By breathing in the colorless gas, you can expect to be in a state of deep relaxation but also able to communicate with your dentist if you wish. Nitrous oxide is safe for kids and wears off within minutes of taking off the mask. Patients can then go about their normal day and even drive themselves home from their dental appointment.
Reasons Patients Choose Sedation Dentistry
There are many circumstances in which patients can benefit from sedation dentistry. In general, if fear or anxiety makes your dental visits stressful or keeps you from getting the dental care you need, sedation dentistry should be strongly considered.
At Pure Smiles Dentistry, we happily administer nitrous oxide sedation to ensure your dental treatments are comfortable and rewarding. Sedation dentistry is a solution for patients who have the following:
Fear of needles or pain
Aversion to smells and sounds of dentist (latex, dental drill)
Severe gag reflex
Bad experience with dentist as a child
Lengthy or complex treatment
Difficulty sitting still in the dental chair
Whether dental care triggers sweaty palms or a paralyzing fear, sedation dentistry may be the answer you need to experience dental care in a positive manner. At Pure Smiles Dentistry, we are dedicated to making dental visits as comfortable and stress-free as possible for every patient. If nitrous oxide is needed, we are happy to explain the process in better detail. Call today to schedule your dental visit!