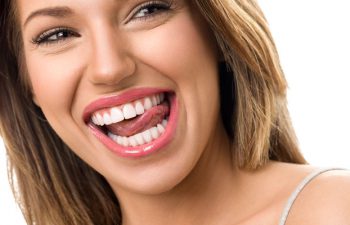 For teeth that are stained, chipped, decayed or crooked, porcelain veneers are specially crafted shells designed to cover the front surfaces of teeth. Sometimes referred to as cosmetic veneers or dental porcelain laminates, they are remarkable in restoring the appearance of teeth.
When it comes to placing porcelain veneers, it's important to understand that it is an irreversible process. This is because teeth must be "prepared" prior to applying the veneers. This process requires removing ½ millimeter of tooth enamel to allow space for the veneer (a veneer is approximately ½ millimeter in thickness). A model of the tooth is made, and then sent to a dental lab where the veneer is fabricated.
After a few weeks, the veneers can be permanently bonded to teeth. During this appointment, the veneer will be trimmed and moved in order to achieve an exact fit. In addition, the shade of the veneer can be adjusted. Finally, teeth are polished and etched before each veneer is applied.
Without question, porcelain veneers are an appealing solution to restore the appearances of teeth. At the same time, they remain a conservative method of enhancing one's smile, because they do not usually involve invasive shaping prior to being placed.
WebMD explains that veneers are commonly used to fix the following:
Teeth that are discolored, due to root canal treatment, stains from prescription medications, excessive fluoride, or to cover large resin fillings that have discolored teeth
Teeth that are worn down
Teeth that are chipped or broken
Teeth that are misaligned, uneven or irregularly shaped, meaning that they have bulges or craters in them
Teeth with gaps between them
Beautiful Cosmetic Veneers in Marietta
At Pure Smiles Dentistry, we are proud to offer residents in Marietta and surrounding communities the advantage of beautiful cosmetic veneers. That's because we understand that a confident smile is an important asset.
To discuss your smile goals with our cosmetic dentist, call Pure Smiles Dentistry today!