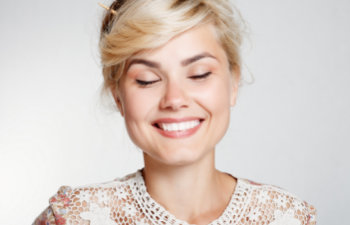 If you've recently gotten engaged, you may be overwhelmed with what you need to do to get ready for your special wedding day. Beyond hiring a florist and choosing a venue, there may be things you want to do to improve your appearance. After all, your wedding day will be captured as one of the most memorable events of your lifetime. It's understandable why you'd want to look your best. As you commit to an exercise plan to fit into your wedding dress or schedule your final hair appointment, don't forget about your teeth. Your smile will be one of the most highlighted features on your big day.
What would you change about your smile? Chances are, cosmetic dentistry can fix it before you say "I do." At Pure Smiles Dentistry, we recognize that your wedding day should be a day when nothing holds your smile back. Our office is uniquely equipped to offer the services and treatments your smile needs to be confident in your teeth when you tie the knot.
Whether you are getting married in a several days or several months, there are cosmetic dental treatments that can address a wide range of aesthetic concerns at various budgets and timeframes. Here are some common dental services that brides and grooms choose to prepare for their wedding day:
Teeth Whitening
You can whiten your teeth more effectively with professional grade systems. Choose from quick, in-office treatments or custom at-home whitening to add brilliance and beauty to the shade of your smile!
Cosmetic Bonding
This is an ideal solution to fix minor imperfections fast and affordably. Bonding can correct small tooth gaps, chipped teeth, stained teeth or slight unevenness. It's painless and only takes one brief office visit.
Porcelain Veneers
If you are looking for a more dramatic smile makeover, cosmetic veneers may be your answer. You'll need to allow a little more time for this option, but you can gain an instant transformation to your smile. Veneers cover up all types of imperfections, from broken teeth and crooked teeth to severely stained teeth and missized teeth. You'll be guaranteed a celebrity smile with veneers for your wedding day and beyond!
Invisalign
Did you know that, according to a study by RealSelf, Invisalign ranked as most popular beauty prep treatment for brides and grooms? With enough forethought and planning, you can get started on your clear aligner orthodontics and have a straight and beautiful smile as you walk down the aisle. If your treatment is not quite complete by your wedding day, you will be free to remove your aligners for your big event without consequences.
Is your smile wedding day ready? Let us help. Call Pure Smiles Dentistry today to learn which options in cosmetic or restorative dentistry can help you smile with complete confidence at the altar.