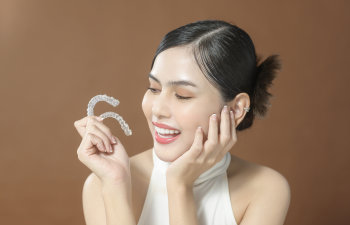 If you have ever worn traditional braces, you know how difficult it can be to keep your teeth healthy and clean. Metal wires, tiny rubber bands and bulky brackets can be real obstacles to your toothbrush and floss. At Pure Smile Marietta, we don't want your smile straightening treatment to come at the expense of your smile health. That's why we proudly offer Invisalign clear aligner therapy to patients in Marietta.
Invisalign relies on clear removable aligners to gently move your teeth into better position over time. When it comes to your oral hygiene during Invisalign treatment, the key word is "removable." With the ability to take out your aligners to brush and floss, you'll never have to worry about keeping your teeth and gums clean and healthy while your smile moves into a more attractive position.
Do Your Part
There are still things you'll have to do to ensure your smile stays as clean as possible while undergoing Invisalign orthodontics. Here are some tips to help keep your teeth and aligners free of germs and stains:
Keep Brushing and Flossing Like Normal
Brush your teeth twice a day and floss once a day to remove plaque and food particles that can get trapped in your teeth and aligners. Use a soft-bristled toothbrush and fluoride toothpaste to brush your teeth and a floss threader to clean between your teeth and around your aligners.
Clean your Aligners
Clean your aligners daily to remove bacteria and prevent odors. Rinse them with lukewarm water and brush them gently with a soft-bristled toothbrush and mild soap or non-abrasive toothpaste.
Remove Invisalign to Eat and Drink
Eating or drinking with your aligners in can cause food particles and stains to become trapped between your teeth and aligners. Take your aligners out before eating or drinking and rinse your mouth before putting them back in.
Stay Hydrated
Drinking plenty of water can help keep your mouth hydrated and prevent dry mouth, which can increase the risk of cavities and gum disease.
Don't Skip Your Routine Dental Visits
Regular dental check-ups and cleanings are important to monitor your oral health and address any issues that may arise during Invisalign treatment.
For more tips on keeping a clean mouth while wearing Invisalign, please call Pure Smiles Dentistry. We are proud to give patients a convenient and effective alternative to traditional metal braces.