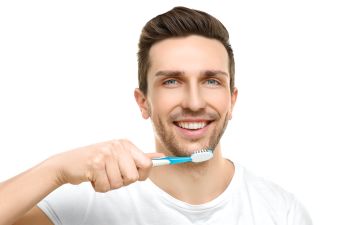 In light of the recent Coronavirus pandemic, families across the nation are choosing to stay home. This "new normalcy" often involves a drastic change in your daily agenda and routine. While it may be nice to get more rest, work less and spend more quality time with the people you love, don't neglect the routine tasks you do for your oral health. Just because you are not setting your alarm and getting dressed for work or school each morning doesn't mean that you should ditch your toothbrush too.
Staying on top of your oral health while staying at home not only helps to protect your overall health, but it also prevents you from suffering from unwanted dental problems. Dental pain can make an already difficult situation much worse. Although we are here for your dental emergencies at Pure Smiles Dentistry, we also want to encourage our patients to find ways to maintain and even boost their dental health as they clock in more hours at home.
The days can be stressful and your schedule has likely been turned upside down. However, do your best to stay mindful of your oral health each day. Consider the following ways you can support your smile health during these unprecedented times in our nation:
Brush for two minutes, twice a day
Replace your toothbrush if it has been 3 months or looks frayed
Floss daily (now is a great time to establish this habit if you've neglected it in the past)
Drink more water (rinses away bacteria and food debris after meals)
Snack smarter (avoid choices that are high in sugars, acids or refined carbs)
If you do have a sudden dental concern, don't ignore it. Our office is available to see emergency dental patients. We never want a small dental problem to get worse because you delayed necessary treatment. Please call Pure Smiles Dentistry with all of your dental health questions! We will do our part to keep your smile as healthy as possible while you are away from the dental office.