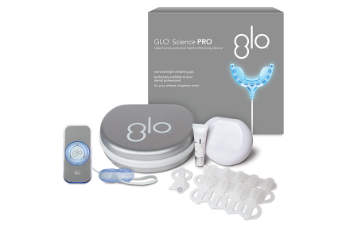 Though teeth whitening remains at the forefront of cosmetic dentistry, there are an array of methods out there from whitening toothpastes, whitening pens, trays and bleaching. Unfortunately, individual attempts at gaining a brighter smile often lead to disappointment, as many do not obtain the result that they had in mind. This is mostly likely due to different methods of delivery and application, meaning that some whitening chemicals become less effective when mixed with saliva. Even more frustrating is that many experience tooth sensitivity following a whitening treatment. Thus, with easy application and guaranteed results, dental professionals across the country are recommending Guided Light Optics (GLO), a cutting edge teeth-whitening system. Given the compromises of other methods, it's easy to see why countless patients are turning to the magic of teeth whitening with GLO.
Perhaps the greatest secret concerning the revolutionary GLO system is in its heat. For instance, as the GLO Brilliant Teeth Whitening Device is used with the exclusive G-Vial Gels and Whitening Mouthpiece, it begins to warm as it illuminates. The heat accelerates the whitening gel, which is enclosed within the mouthpiece. The result is shorter wear time, efficient whitening (up to five shades in five days!) and longer lasting results with zero sensitivity. Scientists refer to this as the GLO difference.
Contrary to tray-based methods or messy whitening strips, the closed-system mouthpiece of the GLO system prevents oxygen from escaping the surfaces of teeth. What's more is that it prevents oxygen from entering the mouthpiece. While this ensures an optimal result, it also protects sensitive gum tissues.
Finally, patients rave about the ease of their teeth whitening experience with GLO. They simply apply gel directly onto their teeth from the G-Vial, attach their mouthpiece and press the GLO button on their small, hand-held device to begin. In intervals of 8 minutes, teeth become whiter and brighter.
Protect The Health And Comfort Of Your Smile With GLO Teeth Whitening!
At Pure Smiles Dentistry in Marietta, we are pleased to offer patients the extraordinary benefits of GLO Teeth Whitening, an innovative solution that protects the health and comfort of your smile.
Do you want to improve the brightness of your teeth? Call Pure Smiles Dentistry today!