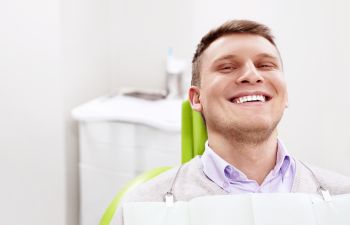 When it comes to dental fillings, we've come a long way since silver or amalgam fillings. Modern dentistry now offers a solution that delivers valued durability as well as superior aesthetics. Composite resin fillings are a tooth-colored alternative to metal or amalgam fillings used in the past. It is so aesthetically-pleasing that we can not only use composite resin to effectively repair an area of decay in a tooth, but it is also routinely used cosmetically to fix minor chips, gaps or fractures on the front teeth.
What is a Composite Resin?
Composite resin is a white plastic and glass mixture that carries versatile capabilities. It can be used restoratively as well as aesthetically because it naturally blends with the color of your teeth. Composite resin bonding is an affordable and non-invasive cosmetic procedure that can address teeth that have small gaps or chips.
What to Expect During Your Procedure
The procedure is painless and quick. When getting a composite filling, the tooth-colored material is carefully applied (or "painted on") to the surface of the affected tooth. A special curing light hardens the resin so that it can bond directly to the tooth. Finally, we polish the bonded composite resin for a seamless and natural look.
Replacing Old Fillings for Peace of Mind
Do you have old silver fillings that you'd like to remove? Pure Smiles Dentistry is equipped to replace your unsightly amalgam fillings with our tooth-colored alternative. Old fashioned dental fillings can be a threat to your smile aesthetics, and their mercury content is commonly questioned in terms of health and safety. You can undergo a safe removal service so that you can be confident in the health and appearance of your smile going forward.
To learn more about white composite tooth fillings from a trusted Marietta dentist, call Pure Smiles Dentistry today. We look forward to caring for your smile with the most preferred and natural-looking materials in modern dentistry. No one else should have to know you've had a cavity and a filling.