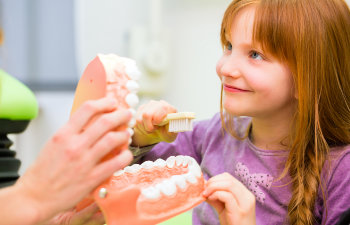 When it comes to ensuring our children's oral health, prevention is key. At Pure Smile Dentistry in Marietta, we understand the significance of early dental care and the long-lasting impact it can have on a child's overall well-being. One preventive measure that we highly recommend for kids is dental sealants. In this blog post, we explain the importance of dental sealants and how they can effectively safeguard your child's precious smile.
What Are Dental Sealants?
Dental sealants are thin, protective coatings applied to the chewing surfaces of the molars and premolars. These back teeth have deep grooves and pits that can easily trap food particles and bacteria, making them vulnerable to tooth decay. Sealants act as a barrier, preventing cavities from forming by sealing off these vulnerable areas, effectively reducing the risk of decay.
Shielding Teeth from Decay
Children are more susceptible to cavities due to their developing oral hygiene habits and a higher intake of sugary foods and beverages. Dental sealants offer an added layer of defense against tooth decay. The sealant material effectively fills in the deep grooves and fissures of the teeth, creating a smooth surface that is easier to clean and maintain. By sealing off these hard-to-reach areas, sealants reduce the chances of plaque buildup, preventing the formation of cavities.
Quick and Painless Application
Applying dental sealants is a simple, painless, and non-invasive procedure. The teeth being treated are thoroughly cleaned and dried before the sealant material is gently painted onto the chewing surfaces. It quickly bonds to the tooth enamel and hardens under a special light. The process is comfortable, and no drilling or anesthesia is required. At Pure Smile Dentistry, our experienced and friendly dental professionals ensure a stress-free experience for your child, making the entire process easy and hassle-free.
Long-Term Benefits
Dental sealants provide long-lasting protection for your child's teeth. With proper care and maintenance, sealants can remain intact for several years, providing continuous protection during the most vulnerable years of tooth development. By investing in sealants, you can save your child from potential pain, discomfort, and expensive dental treatments associated with cavities. Moreover, protecting their teeth from decay at an early age sets the foundation for a lifetime of good oral health habits, instilling in them the importance of preventive care.
Book Your Pediatric Dental Visit in Marietta
At Pure Smile Dentistry, we believe that dental sealants play a vital role in safeguarding your child's smile. By acting as a protective shield against cavities, sealants offer a cost-effective and efficient preventive measure that can contribute to a lifetime of healthy teeth. Schedule an appointment with our skilled team today and give your child the gift of a cavity-free smile.
In just a few simple steps, you can provide your child with long-lasting protection and peace of mind. Choose dental sealants at Pure Smile Dentistry for a brighter, healthier future.