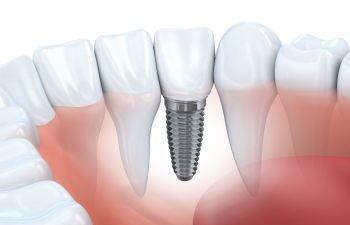 Believe it or not, you need all of your teeth – and not just for a pretty smile. Each tooth plays a vital role in how you chew, speak and retain your jawbone density. When a tooth goes missing, a detrimental chain of events can occur that can include misalignment, bone loss and threats to your quality of life. Fortunately, modern restorative dentistry offers a remarkable solution using dental implants.
Dental implants are not only the best replica of your natural teeth, but they also offer the versatility to be used as a single tooth replacement or when replacing full arch of teeth. Regardless of how many missing teeth you have or why you have lost them, many patients shy away from dental implants due to cost. What they may not realize, however, is the dental implants offer the most long-term return on your restorative dentistry investment. Implant dentistry brings "priceless" benefits towards your oral health, your self-esteem and your overall well-being.
The Dental Implant Difference
There is more than one way to replace missing teeth. While you can opt for bridges or traditional dentures, you should know what you're "missing out on" if you deny dental implants. Dental implants involve the surgical placement of a titanium post into your jawbone. Over time, the implant fuses to the surrounding bone to form a strong anchor and "prosthetic tooth root" to hold your restoration (crown, bridge or denture) in place. This is a key distinction of dental implants and the reason why dental implants offer so many valued benefits.
By choosing dental implants to replace your missing tooth or teeth, you can gain the following:
Permanent, long-term solution
No adhesive creams or extra maintenance required
Dietary freedom
No worry of loose, ill-fitting prosthetic teeth
Improved confidence from a stable smile
Less risk for bone loss and premature facial aging
Contact a Skilled Implants Dentist
Not all dentists carry the training and experience it takes to place and restore successful dental implants. At Pure Smiles Dentistry, we are happy to provide excellence in teeth replacement. Our menu of restorative dentistry treatments can ensure each patient regains the confident and healthy smile they deserve after missing teeth. If you are considering dental implants, we invite you to schedule a consult so that we can better explain the life-long benefits they can provide.