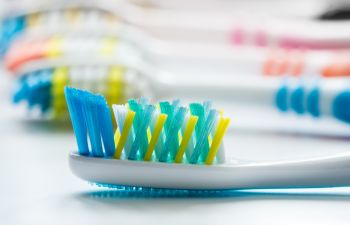 Every member of your family needs daily hygiene. However, not everyone will use the same products and tools to keep themselves clean. When it comes your mouth, a parent doesn't (and shouldn't) use the same size toothbrush and amount of toothpaste as a small child or toddler. While each child is different in terms of their oral development, there are some basic guidelines for toothbrushes and toothpaste as they grow.
0-3 Years Old: Finger Slip or Infant Toothbrushes or Washcloth for Babies
Since you won't have many (or any) teeth to actually brush, the goal of dental care at this age is keeping the gums clean. A textured silicone finger slip toothbrush or simply a damp washcloth can remove milk or sugar buildup along tender gums as well as a simple damp washcloth. There's no need to use toothpaste until you see their first tooth. Only a rice-sized amount of toothpaste is recommended until the age of 3.
3-5 Years Old: Kid-Sized Toothbrush
A kid-sized toothbrush looks just like an adult one, except it is smaller in size. Stick to a soft-bristled brush while they are getting used to brushing on their own. A pea-sized amount of toothpaste should be used at each session. Make sure to watch and guide your child's brushing routine until he or she can tie his or her own shoes.
6-9 Years Old: Kid-Sized Toothbrush or Electric Toothbrush
After age 9, you can be sure your child has gotten the hang of independent tooth brushing. However, the job may have become a chore. To make this important task more exciting, consider letting your older child use an electric or powered toothbrush. Let them pick out their favorite design!
10 Years and Older: Adult Toothbrush or Electric Toothbrush
Around the age of 10 years old, your child's mouth should be large enough for an adult toothbrush to fit comfortably. An electric toothbrush can be an excellent option if your child is vulnerable to decay and staining. In addition to an appropriately sized toothbrush, make sure that floss, mouthwash and toothpaste with fluoride are also added to their oral are regime.
For more information about a toothbrush timeline for your child, call Pure Smiles Dentistry. Our services in pediatric dentistry ensure that the youngest members of your family have access to top quality dental care at every stage of life.