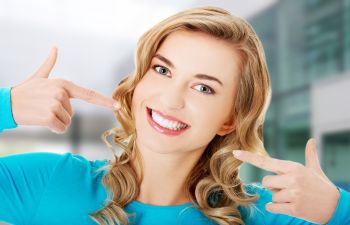 Most will agree—a bright white smile makes an immediate impression on those we meet. With the ability to exude youthfulness, vitality and perhaps even overall health and success, it's no wonder that nearly 90% of patients request tooth whitening when asked about what they wanted to improve about their smile (American Academy of Cosmetic Dentistry). With this in mind, do you want a brighter smile? Here's what you need to know.
While most individuals understand that certain foods, beverages and lifestyle habits have a negative impact on their smile, what many do not realize is that genetics, antibiotics, developmental disorders, decay, previous restorations and trauma are also factors affecting the brightness of one's smile. In addition, a tooth's enamel and underlying layer called dentin change over time, often resulting in a yellow tone.
Will Tooth Whitening Work On My Teeth?
While tooth whitening is a simple process, it is important to speak to your dentist about which options will work for you. Mouth Healthy reports that while yellow-stained teeth typically respond well to tooth whitening, brown or gray teeth may not. In turn, whitening will not work on crowns, veneers or fillings. Finally, for tooth discoloration caused by medications or trauma, whitening is typically not effective. Even so, do not become discouraged if you suffer from severely stained teeth. Remember—only your dentist can determine what will work for you.
When it comes to professional tooth whitening, in-office bleaching remains a highly effective and economical way to brighten one's smile. In 3-4 applications, dentists can whiten teeth up to 10 shades, in a one-hour visit! A specialized gel agent is used, and it includes a protective buffer for sensitive tooth enamel. Without question, in-office bleaching provides an instant transformation for most patients. On the other hand, professional tooth whitening can be performed at home for patients that desire a more gradual whitening experience. In essence, patients wear professional tooth whitening trays for up to one hour each day for 4-7 days. Patients may experience brighter results of up to 6 shades.
A Whiter, More Confident Smile Is Within Reach
At Pure Smiles Dentistry, we understand that not everyone is born with sparkling white teeth. That's where we come in. We offer safe, effective whitening using GLO (Guided Light Optic) technology, a revolutionary method that combines whitening gel with a light-activated technology and easy to use device.
To learn more about GLO or to inquire about other cosmetic services, the team at Pure Smiles Dentistry welcomes your call today. You can be sure—a whiter, more confident smile is within reach.