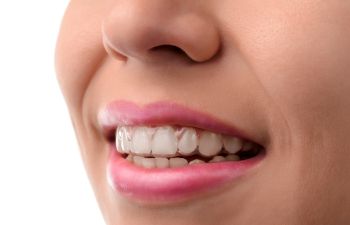 At Pure Smiles Dentistry, we understand that not every patient is willing or able to spend time in metal brackets and wires to achieve a straighter smile. Whether it is your career, your lifestyle or your personal preference, traditional braces are often a source of dread. Many adults opt to just live with their crooked or gapped smile to avoid the months or years in metal brackets.
Fortunately, there is a revolutionary alternative to straighten your teeth without braces. Invisalign can effectively address a wide variety of issues, such as crowding, spacing, crossbite, overbite and underbite, yet it offers the following benefits over traditional braces.
Highly Discreet: The hallmark advantage of Invisalign is its clear design. With thin clear aligners that fit comfortable over your teeth, others won't even know you are undergoing orthodontic treatment. This allows adults and teens to speak, laugh and smile confidently while their teeth are aligning.
More Comfortable: With Invisalign, there is no need to worry about gum and cheek irritations from harsh metal brackets and poking wires. Invisalign uses medical-grade flexible plastic that offers gentle increments of force to move your teeth into proper position. There is no need for uncomfortable tightening or adjustment appointments like those required for braces.
Dietary Freedom: Popcorn, candy and other hard foods are off the list of allowed foods if you have braces. However, with Invisalign's removable aligners, patients can enjoy the foods they love and avoid dietary restrictions throughout their treatment.
Better Smile Health: The ability to remove Invisalign trays provides another significant benefit towards your oral health. While it is common for braces wearers to suffer from plaque build-up, puffy gums and tooth discoloration during treatment, Invisalign allows patients to maximize their brushing and flossing efforts without the challenge of fixed brackets and wires.
Less Office Visits: Invisalign patients are given a series of aligner sets that are changed out every two weeks. While you'll need to come in every four to six weeks for us to monitor your progress, there is no need for multiple office visits like those for traditional braces, a valued convenience for your busy schedule.
Faster Results: While every case is unique, your Invisalign results may be achieved in as little as 9 months. Average treatment time is between 9 and 15 months. We can give you an idea of what you can personally expect in terms of treatment length at your initial exam.
For a further comparison between Invisalign and braces, please schedule your consultation with us at Pure Smiles Dentistry in Marietta. We are proud to offer such a leading orthodontic solution that accommodates your lifestyle, budget and preferences. Get a straight smile without the hassle!