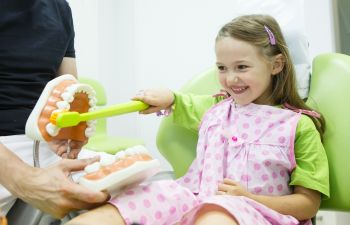 An integral part of encouraging overall health and wellness begins at an early age with pediatric dental care. In fact, Colgate reports that before any teeth erupt, it's wise to wipe down the gums with gauze or a soft, wet washcloth. This establishes a routine for when primary teeth appear, and this is the purpose of pediatric dental care—to ensure that teeth are healthy and free of decay and dental disease.
Whether around the first birthday or when a child's first tooth appears, it's important to schedule a dental visit. This is a particularly crucial time, as most children are transitioning from nursing and/or a baby bottle to a cup and more solid foods. At this appointment, a pediatric dentist will make sure that teeth are erupting properly, and he or she will remove excess plaque and bacteria from teeth and gums.
For parents of small children, pediatric dentists provide much needed tools and resources for how to take care of their children's teeth. They also provide insight into a child's diet, particularly when children begin eating regular foods. As a precaution, dentists recommend steering clear of starchy foods and sugars, with the exception of a treat here and there. This is because primary teeth are an important foundation for permanent teeth. In other words, the future of a child's dental health depends on the health of their baby teeth.
We Offer The Following Pediatric Dental Treatments
For our littlest patients, Dr. Sanil Patel and the team at Pure Smiles Dentistry offer a complete spectrum of pediatric dental treatments. We're happy to partner with you to screen for concerns and developmental issues that might impact your child's oral health.
Dental Sealants to prevent cavities before they start
Gentle, minimally-invasive fillings designed to prevent the spread of infection
Emergency treatments when a child has an accident
Comfortable dental cleanings
Tips for oral hygiene, diet and nutrition
Low radiation x-rays
Crowns and pulp therapy for teeth that become abscessed
Fluoride treatments
Screenings for orthodontic care
Call Pure Smiles Dentistry in Marietta to schedule your child's visit today!