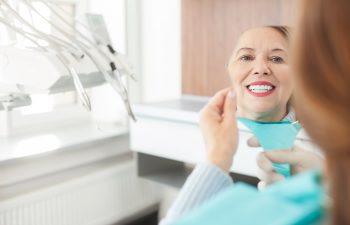 When it comes to enhancing the appearance of your smile, teeth whitening tops the list! Instead of wasting time, energy and money on OTC whitening products, we invite you to consider the benefits of going to your dentist for a brighter smile.
While not every dentist invests in the same professional whitening technology, Pure Smiles Dentistry is proud to offer GLO Science Teeth Whitening as an ideal choice. GLO Science is one of the sleekest and most preferred systems to enter the professional teeth whitening market. It takes medical grade whitening technology to the comfort and convenience of your own home. In doing so, you can have confidence that you're protecting your smile health while reaping the amazing transformation of whiter teeth in a short amount of time.
What is Included in Your GLO Take-Home Kit?
GLO stands for guided light optics. This technology has revolutionized professional whitening and involves an easy-to-use whitening device emits a brilliant blue light as it gently warms inside your mouth to accelerate the powerful hydrogen peroxide gel. Overall, GLO is known for fast, efficient and long-lasting whitening without the disruptive sensitivity of other systems.
A GLO Whitening kit typically contains the following:
GLO Brilliant™ Personal Teeth Whitening Device
GLO Brilliant™ Whitening mouthpiece and case
10 x GLO Brilliant™ Whitening Gels (g-vials)
USB power plug
GLO™ Lip Treatment
Top Three Benefits of Choosing GLO Science
Not sure you are on board with the GLO whitening system? Check out these invaluable reasons to "go GLO" with your smile this year:
Quick, Easy and Convenient
GLO Science is reported to lighten teeth by five shades in as little as five days! The quick 8-minute sessions are easy to do compared to other whitening systems that you have to wear for several hours at a time. Best of all, you can perform your whitening treatment on your own time and in the comfort of your own home. The device is even hands-free with a universal USB charger that works easily with your computer.
Protects Your Smile Health and Comfort
A highlighted benefit of GLO is its ability to whiten teeth without causing sensitivity within the gums or teeth. The whitening gel disperses evenly and neatly so nothing leaks out onto the gums to damage your delicate soft tissues.
Safe, Allergy-Free Formula
While GLO is remarkably powerful, it is uniquely formulated without parabens, sulfates or phthalates. It is also vegan and safe for those who have an allergy to penicillin, gluten, soy, nuts or latex.
A GLO Dentist in Marietta
Want to know more about GLO Science or how this innovative teeth whitening system can benefit you? Call us at Pure Smiles Dentistry in Marietta.