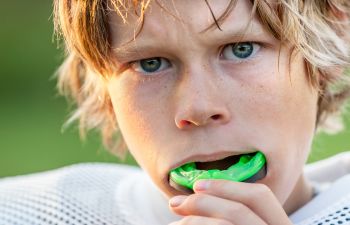 When it comes to dental injuries, the American Dental Association projects that one third of all injuries are sports-related, and that wearing a mouthguard can prevent more than 200,000 oral injuries to the mouth each year. This is true for an athlete of any age and skill level, which is why wearing a mouthguard is a good idea.
Imagine the damage caused by a misplaced elbow during a basketball game. From tooth displacement to a broken or fractured tooth, an elbow to the mouth can result in disastrous, not to mention painful and costly repairs. In turn, while a blunt force to the face or mouth may not knock out a tooth, it might cause an individual to bite down on soft tissues such as the inside of the cheek or tongue. In both instances, wearing a mouthguard displaces the force of an impact to one's mouth, preventing lasting damage to the face and teeth.
In a recent article posted by Colgate, results from a study of high school athletes and oral injuries were referenced. According to the study, 75% of injuries occurred when mouth guards were not worn, with a high percentage of injuries sustained during baseball and basketball. The study also revealed that 56% of all concussions were suffered when mouthguards were not worn.
With a greater understanding of the importance of wearing a mouthguard, many ask the question, "is an over the counter mouth guard good enough?" While some protection is better than none, a customized mouthguard designed by a dentist is generally a better choice than a ready-made or boil and bite version. Of course, the answer depends on an individual's comfort level, budget, materials preference and level of protection needed. Even so, a customized mouthguard provides ultimate comfort and flexion, with superior protection. What's more, they are highly personalized, as they are designed based on the exact impression of a patient's bite.
Call Pure Smiles Dentistry Today!
At Pure Smiles Dentistry, we make every effort to meet the demands of your smile, with preventative to restorative dentistry and everything between. Whether you are a seasonal or professional athlete, we're happy to perform a comprehensive assessment and customize a mouthguard that will preserve your oral health. Contact us today to schedule an appointment with Dr. Patel and the team at Pure Smiles Dentistry in Marietta.